Sandwich shop from Before 1984.
Chicago's original sub sandwich shop since 1971 – Longevity is it's own reward.  To succeed in Chicago means we are good.  The last good deal in Great Eating – why?  Because we cook in volume and control the quality ourselves…  No factory here.
Inexpensive Takeout Food
Take out food that's good to takeout.  Yummy soups, hearty chili and big sandwiches is what we do.  Made-from-scratch and homemade.  Inexpensive too.
Chicago sandwich shop
3 Vintage style neighborhood sub sandwich shops with best homemade soups and gluten free turkey chili in Chicago – locations in Rogers Park,  Lakeview  Wrigleyville and Winnetka.
Packed with Chicago History
A Chicago icon, this website has hundreds of images of Captain Nemo and Mrs. Nemo from newspaper articles, 5 star reviews and TV footage.  And you can see photos of each item and nutritional info too.
The Only Sandwich Caterer you need.
Simple, cost-effective catering unique to Chicago. Big enough for huge events but always a personal touch. Call us now.

The Original Captain
You found the official Capt'n Nemo's website.  We are the sandwich shop with the Federal Trademark for  "Capt'n Nemo's" started in Chicago IL in 1971.

Old School Philosophy
Authentic soups and the big sandwiches  – no changes or shortcuts in our foods.  Great ingredients = Great Food.

Best Lunch Food
Lunch time and early evening hours only.  Soup and Sandwich – the All American Lunch.

Rogers Park 1981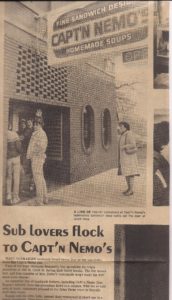 First Birthday 1972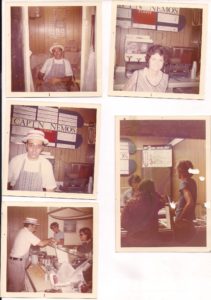 Phone Numbers:
Winnetka Location – 847-446-6406
on-site iPhone: 847 660 4998 ( spells 847 mo0-izzu )
Rogers Park Location – 773-973-0570
on-site iPhone 773 988-2443 ( spells 773 yuv-agge )
Lakeview Location – 773-929-7687
on-site iPhone 312 536 8286 ( spells 312 Lent bun )